Trainz Map/Plan/Layout (2003 edition):
Last updated: 3 April, 2013 23:27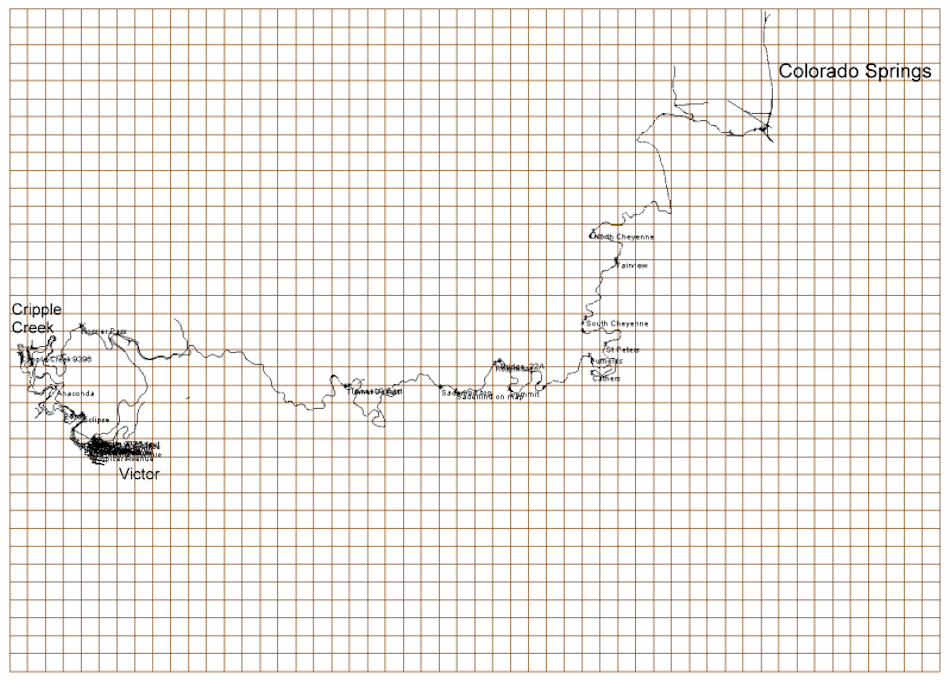 Click link to open map in a new window
Map shows the Virtual trackplan of the Colorado Springs & Cripple Creek District Railway (CS&CCDRy), or The Short Line as it popular was called. It was a standard gauge railroad, the last into the District, and second to disappear.
Each of the little squares equals 1 baseboard inside of Trainz, and each baseboard is 720 by 720 meters.
I also have plans for building the Midland Terminal (also standard gauge from Colorado Springs - second into the District, last to go) & the narrow gauge 3-foot line that came up from Florence - and later Canon City - in the late beginning of the great gold district to be known as the Cripple Creek mining area!
That narrow gauge line was called the Florence & Cripple Creek BTW - I wonder why...

Anyway, it is all done in a computer game called Trainz.
Unfortunately, the map shown in these views has some problems I need to overcome, but for now I'm sort of happy with what I got. By clicking on the links on top left of this page you will see some more maps and some screenshots from 13.01.2003.
---
Same links as above left: