London Derry (aka London Dairy) Mine (Ironclad Hill):
Mine Info
Last updated: 19 January, 2015 22:24
28.03.2013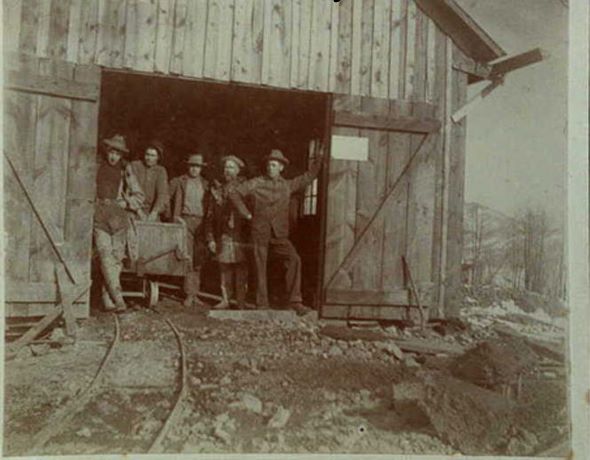 A bunch of unknown people posing for the camera.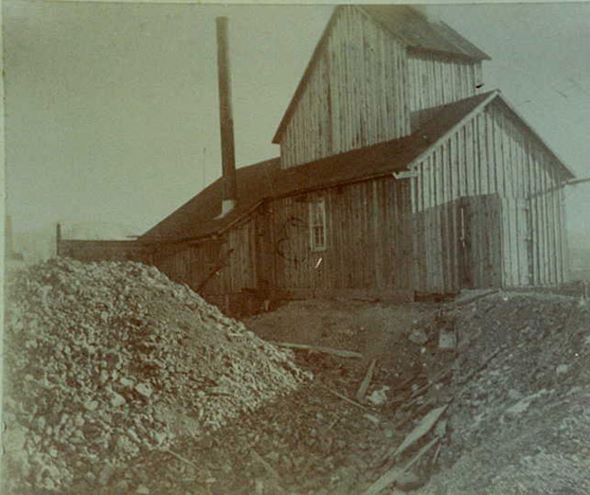 A look at the whole shaft house structure, where the door at the end leads to dump...
About 4 years ago I got a mail from what then was a total stranger, she had found this page here and had some info about this mine from one of her ancestors who was actually killed in the 1898 fire mention below.
Being I am very slow in updating my site and so many bad things in life, I have not been able to update this page with the info, but I will try my best now. I got some images from her too, thank you Anne(7.), especially cool from my point of view is the two images showing the mine and part of the mine as it must have been before the fire!

It was here that sent me these two lovely images seen above here, thanks! She also sent this text found at this link about her great Grandfather, William Henry Pine, superintended of the Londonderry mine, thanks Anne!
---
31.05.2005
Model can now be found and downloaded from the Trainz Download Station - Look up KUID2:77573:25012:1. Or use my main Downloads page (TRS2004 or newer only) for a link to the file at the Trainz Download Station.
Or, you can just click here on this Direct Link, need Download Helper and installs direct into Trainz, or Content Manager if TRS2006 or newer.
---
07.10.2006
Earlier this year I bought some older Engineering & Mining Journals from 1903 - not the best shapes, but I still get some info out of them.
For instance some tidbits more about the Londonderry:
The Engineering & Mining Journal
(6.)
1903 Jan 10
Londonderry - Work is at present being done to show up the apex of the Wild horse vein claimed to be on Londonderry ground in part. At present the suit has not been set. The company tried several times to get an injunction against the Wild horse people, restraining them from taking out certain ore, but without success.
Add in the little news I found earlier that is dated a little later then the text above, I guess we can say that this mine is still a producer of only country rock...
---
25.08.2005
I found a second confirmation that this mine had a shaft house fire 1898! According to a book I have called Riches to Rust(5.) which mention the following text;
Three miners where killed in 1898 when the shaft house caught fire and they where trapped below, with no means to get out. They had been at work drilling blast-holes deep in the mine [which according to the book was situated in the heart of the Cripple Creek District] when somehow the shaft house caught fire. As the surface crew didn't manage to contain the flames, the shaft was in a short time filling up with smoke, spreading out to the workings and ultimately suffocating all life underground.
What a way to go, my heart goes out to this men and all the other miners killed in similar/same type of accident, and as the book says, ultimately it was accidents like this that made the use of shaft houses being banned in the western US states during the 1910s and 1920s.
---
28.04.2005
Thanks to a eBay purchase I got hold of 5 old journals called The Engineering & Mining Journal, and in one of the issues I found a small little paragraph about this mine under news (

), in the issue of February 28, 1903, page 345 I could read the following:
The Engineering & Mining Journal
(6.)
1903 Feb. 28
Londonderry - Quite a little work is being done preparing for the lawsuit with the Wild Horse. The controversy is over extralateral rights, each side claiming the apex of the vein from which some of the ore in the Wild Horse is taken. A reciever appointed by the court looks after the ore in controversy and the expense of taking in out, etc. This suit bids fair to be an important one.
So, at least I now know there where some working on it in 1903!

---
21.02.2005
At left you can see that I tried adding some sort of a night light to the mine - and yes, I know Sanborn told me that there where no light...

Having never seen a kerosene or oil lamp in my life I have no idea how it should look - think this is sort of workable though.
Not sure about that cone thing in the ore house - much polygon for maybe not as good look...
At right you can see the final model as it appeared on February 25, 2005. ->
---
20.02.2005
Very little work has been done since end of November, I got a problem with some bleeding due to Trainz render problems with transparency - and the fact that I went to Colorado for a week or so in December, and later other private matters - all "helped" on me to not finished of this model.
But, this weekend I spent working on it, I found a solution to my window problem, even if it ended up with some more polygons and not as nice "old dirty" looking windows on the ore house.
Look at the ore house windows, see how the other windows show through? It really ruined the effect I wanted of seeing into the ore house.
The solution was to make the window see-through on the glass part by using just white and black on the alpha part, then having the texture single sided in gmax, add a second plane about 2,5cm behind the windows, with a greenish and darken texture set up as double sided in gmax, and a copy of the plane making up the window used about 2,5cm behind the glass part so I have a window visible from the inside of the ore house too.
The glass part covers all windows on one wall - so I ended up with 8 extra polygons for the glass part, then another 16 for the inside windows - but I think it is worth it!
There are lot's of small things I could have done, more details, better looking stuff and so on, but I'm sort of getting tired of having yet another "non finished" model so I have also spent quite much time reducing the polygon count for two extra versions of this to be used with something called LOD (Level Of Detail) as the mine is built to be great looking up close!
And, I normally is not that close to it...

In fact, for the timeframe I want to model it is non working, abandon so to speak, but I use some modelers license to look away from that fact.

After all, it's my model, not a true historical recreation as that would be impossible for me to do alone! If you compare the picture of the model you will also see that I never made the shed part (at left, behind the small tank) like it looks on the picture below (the one attached to the Sanborn map) because I was trying to save on the polygon side.
Still, the main model at this point is at 1889 polygons - which is rather high, but I have other models that are even higher so...

Well, I think this is it, I need to see if I can reduce the texture size and still have a comfortable look of it (in my eyes) - other then that, I think this is finished.
It is not industry active for Trainz, it never had a train connection, ore house is probably wrong, but due to no other pictures then those at bottom of page I have done my best.
Someone is making a horse driven ore wagon for Trainz, and I might update my model later to work with that sort of set up, but before I have access to those models, nothing will happen.
Below is the latest screenshots from inside of Trainz!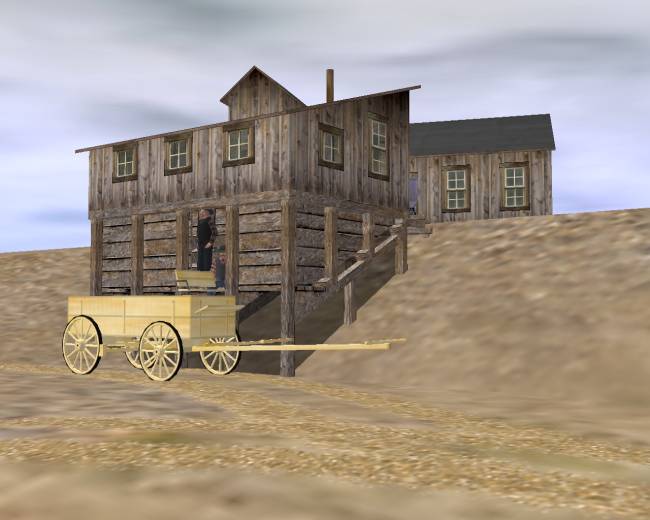 Taken a couple of days ago. Showing the whole setup, the ore wagon is not part of the model..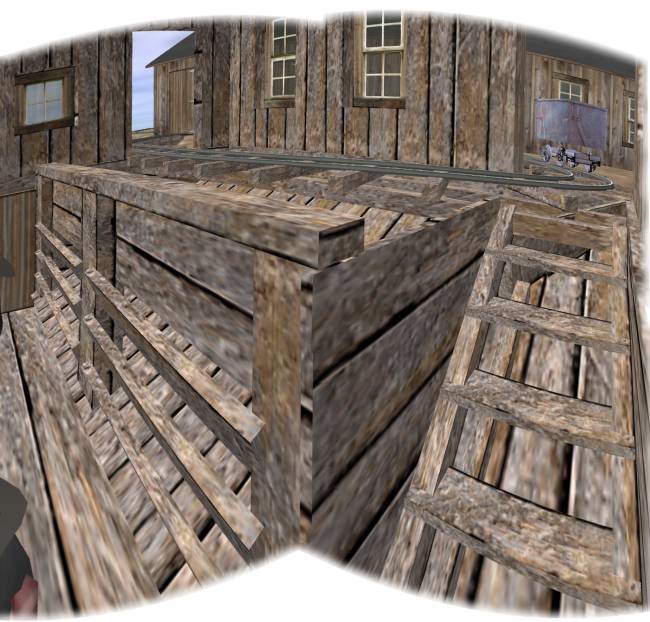 Inside the ore house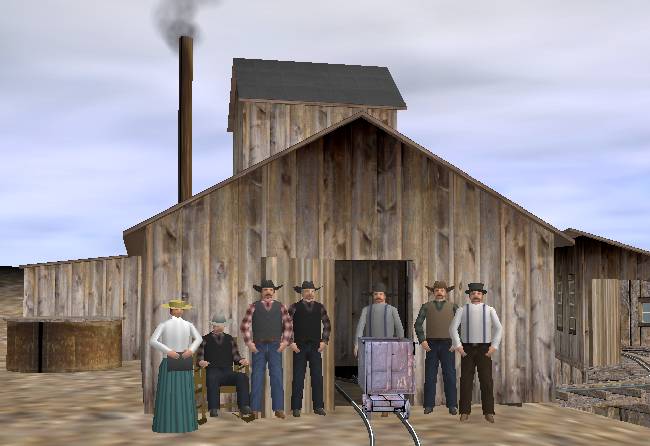 "Miners" and the owners...
(Actually just some figures from another Trainz creator)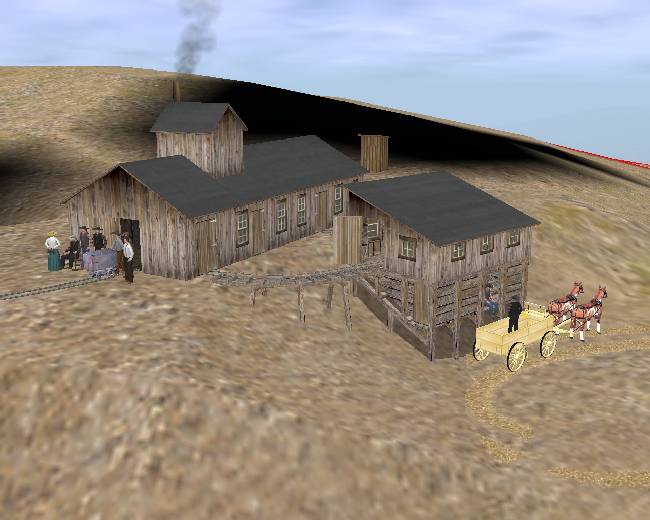 Another look of the mine buildings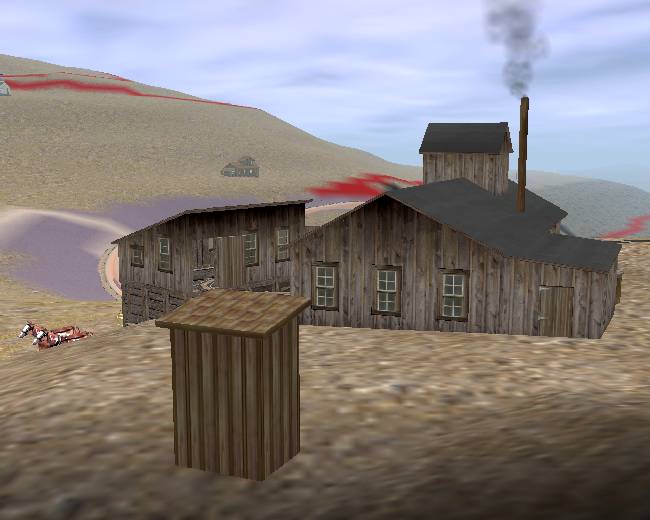 And another look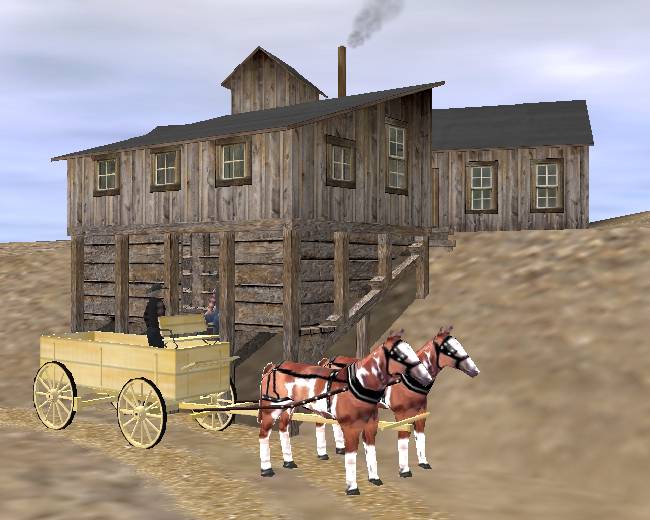 No ore, but a chat is always nice...
---
27.11.2004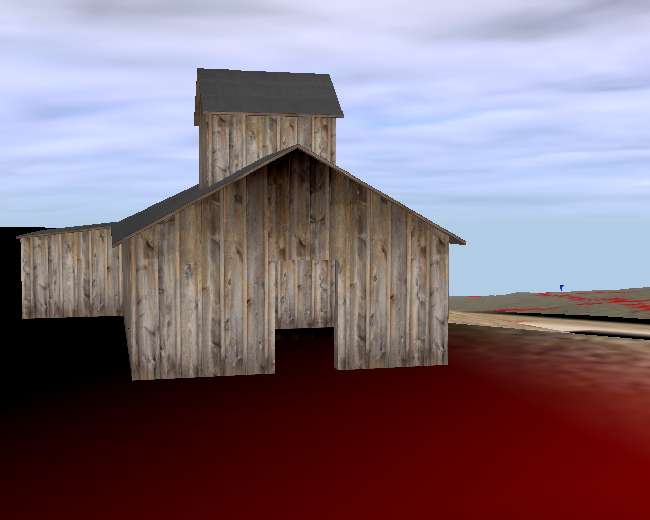 First build & look inside Trainz
Mostly done...
After new windows - trouble...
---
26.11.2004
The Londonderry or London Dairy Mine as I also seen it called on the Sanborn map/index gets to be my fifth attempt of buildings/structures of the Cripple Creek District. Reason this time is just a wish to do something simple, and since I had a picture I found of this mine showing me an end side it would leave much up to me to decide.
So, I thought, this one looks nice and easy/simple, let me see if I can find a Sanborn of it...
Sanborn Map & Image of mine.
Click link to open map in a new window
Which I did, Sanborn for Victor 1908 had a map/drawing of it, picture said it was from 20-03(or08)-1898, and a search on Internet told me a mine called Londonderry in Colorado (not more specified so it can be another mine) had a shaft house fire in 1898 as it listed two men that was killed.
Other then that, I haven't found much more info, a quick look in the "Cripple Creek Manual" didn't gave me more info either, but until I get that book scanned and OCR'ed so I can search for words in it, it can be hard to find some things.
I checked my other source for info, the 1906 Geology book I have, and to my surprise actually found a few words about this mine - even if I look at is as 1 of the smaller mines!

But, should you, the reader of this have any other info, please, let me know.
The info I found was that in 1906 at least it was called "Londonderry Mine"(1). It was located on Ironclad Hill, close to Midway. When the book was prepared, the mine had not been worked on for many years, and very little ore has been extracted from it. (Which confirms my feeling of it one of the smaller mines yes.

)
The shaft is/was 300 feet deep, and the mine had it's collar at an elevation of 10550 feet. It was sunk in granite and schist, and some drifts run on a vein presumably parallel to and west of the Wild Horse. The workings also extended a few hundred feet east to the Wild Horse vein.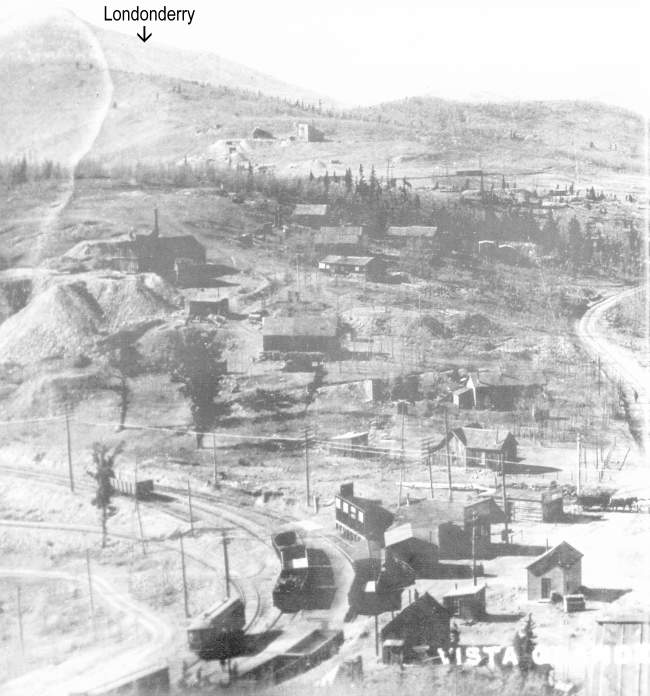 Cropped Image
(3.)
James L. Ehernberger Collection
When I checked a map last night I saw where this mine was located, and I knew I had at least 1 more picture showing that area, and just had to check to see if that mine was on that picture... Sure, it was just that, but, typical my luck, it was in the dark so I couldn't make out any details...
Just enough to see that my initial idea was wrong, and that it was a ore house I had seen on the Sanborn, and not a small house like I pattern it after that I could see from the picture I had. That house was further away, something for a later project.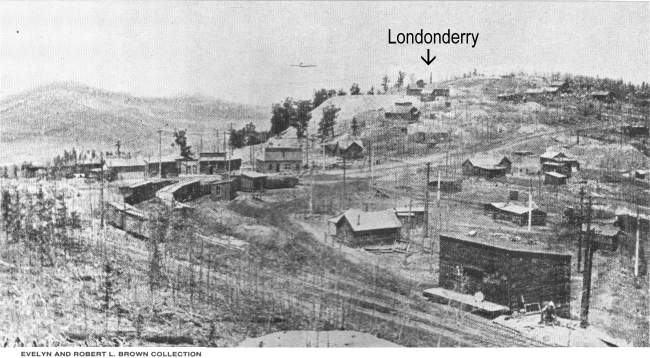 Cropped Image
(2.)
Evelyn and Robert L. Brown Collection
I even found a third picture, this one was most likely from an old brochure or so as it was very rough and made up of these big dots that they printed pictures with in the old days. Not much hope for getting good details out of that one either...

---
Sources:
Florence & Cripple Creek Railroad - Forty Miles To Fortune [ISBN 0-913582-72-7] by Allan C. Lewis (page 321)
Florence & Cripple Creek Railroad - Forty Miles To Fortune [ISBN 0-913582-72-7] by Allan C. Lewis (page 322-323)
Sanborn map from own collection - picture at map, unknown source (probably Internet)