Workshop:
Last updated: 7 April, 2013 17:33
This page is a consolidation of two pages I have had on my old site setup for many years, and is meant to be a presentation of various 3D models I am working on. I tend to work on many models and hardly finish anyone...

If and when a model is finished, as in released, it will be moved into the Downloads link at your left here.
The models varies allot, from the ones related to the Cripple Creek District, to those who relate to the Gilpin Tram up in Gilpin County, Colorado, and fully freelanced models or some other prototype that catches my eye and makes me want to try model it.

For now, per March 2013, it is only old models I have had shown on my website for years, but I hope to add to this page later on.
Various Projects: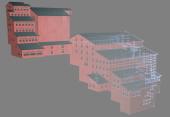 22.01.2006
-
Economic Mill
, in Eclipse Gulch, 1899 to 1907.
This mill is the sole reason I knew I was home when I first saw a image of it in a book, and is the most important model for me to make, hence, I am afraid to move on working on it as I lack info.
Hence I have not done anything for many years, but, my knowledge and images of it has grown a little...

Read more...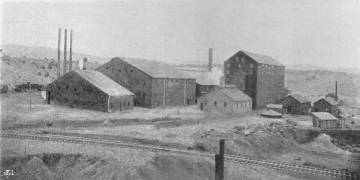 22.01.2006
-
El Paso Reduction Mill
, at Florence 1898.
I bought long time ago a small article on eBay about a mill down in Florence, Colorado, taken from a 1898 journal/magazine called "Engineering", the August 19 issue. This article have some cool drawings, lot of technical text and is actually pretty cool to have and I only wish I had more of this - particular for one special mill...

Read more...
24.02.2005
-
Various Mines & Mills
, this is just a album showing some of the models I had back in 2005 that was more or less nearly done, made to show a friend what I had then, and sadly, it is what I have today too, March 2013 and most of those models are still work in progress...

See Album...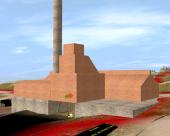 18.09.2004
-
Gold Coin Mine
, in Victor's business District is my third attempt of buildings/structures of the Cripple Creek District. Reason for this is that I needed a mine to feed my Economic Mill, and since this was actually the main mine feeding it, well, it had to be done!

To help me I just have a few pictures from my collection of books and of course the Sanborn Fire Insurance Maps where I could see to my delight on the 1908 version that there where something nice for once! This one had some height measurements, and that connected with the pictures helped me make a very fast and very basic model to put inside of Trainz!
But, it all stopped there, no windows, no doors or anything more have been done to the exterior of the mine. Reason for that is the fact that this mine has been my test for making a working mine elevator, and when I got that working, I put it aside never to touch it again... Read more...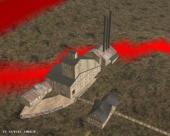 27.07.2004
-
Gold King Mine
, in Poverty Gulch is my second attempt of buildings/structures of the Cripple Creek District. Reason for this is that I actually had an drawing of this one in one of my old model railroad magazines...

That magazine, Railroad Model Craftsman, had in the February & March 1991 editions articles about scratch building this Gold Mine/Mill. Using those it was much easier and faster to get something "correct" into the computer. Read more...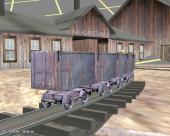 18.07.2004
-
Generic 18" Ore car
, this is just a model made for fun, and for testing some ideas and textures - and, to give the miners some sort of an ore car to haul their ore with...

Based on a mine car I saw near Victor Colorado, using textures taken from photo's of this car, same with the basic measurements, but due to complications in the modeling I never made it fully operational. Read more...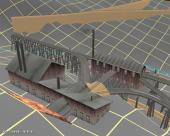 03.07.2004
-
Noname Mine & Mill #1
, this is just a model made for fun, and for testing some ideas and textures - and, to get away from my normal duty for Cripple Creek and Gilpin stuff...

Based on a mine tunnel (The Gold Exploration Co. Tunnel) from Cripple Creek and a mill (Avon mine & mill) from Gilpin (Central City) county. Mine is not made from any Sanborn, just ideas from pictures I've seen. Read more...