Colorado State Journal, 1904 Annual Edition
(page 40)
The Knight-Campbell Company.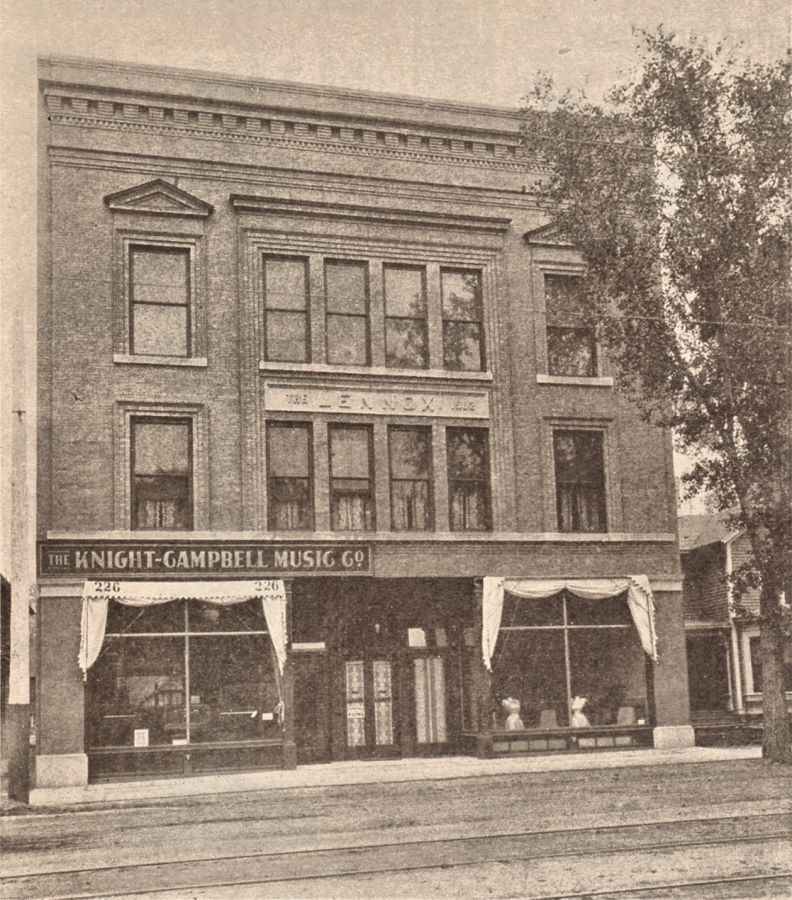 Exterior View of the
Knight-Campbell Music Co. Storefront.
A PROGRESSIVE firm in a progressive city, a cut of whose building is shown, is one of the Colorado Springs firms whose growth has been marvelous. This firm has been represented here for a number of years, by agents, but four years ago the stock consisted of but six pianos, and part of a small building was occupied.
Today they occupy a floor space 175 feet deep, and carry by far the largest stock of pianos ever shown in Colorado Springs. The building occupied by this company has the finest show room of any music firm outside of Denver, and is well equipped for the piano business.
An idea of the high class business which this firm is doing is shown by the fact that they are sending out at least one Steinway Grand each month. There are very few firms in the country carrying as many high grade instruments as the Knight-Campbell Company. You can see in their store rooms any day Stein-ways, A. B. Chase, Everett, Weber and others.
In the last two years they have built up a fine trade in piano players. Simplex and Cecelian are the favorites.
The Knight-Campbell Music Company will be glad of a visit from you at any time. If it's a piano you want or a piano player or a music box or simply a desire to see their handsome store, you will be welcome.