The Cripple Creek Times
New Year Edition 1903
(page 13)
I added images from my collection, and procured the coloring of the images, source article had no pics used
MINERS' WAGES, $652,189.41 A MONTH
| | | |
| --- | --- | --- |
| | This great sum is spent in The Cripple Creek District, and the merchants and other business men derive the benefit. | |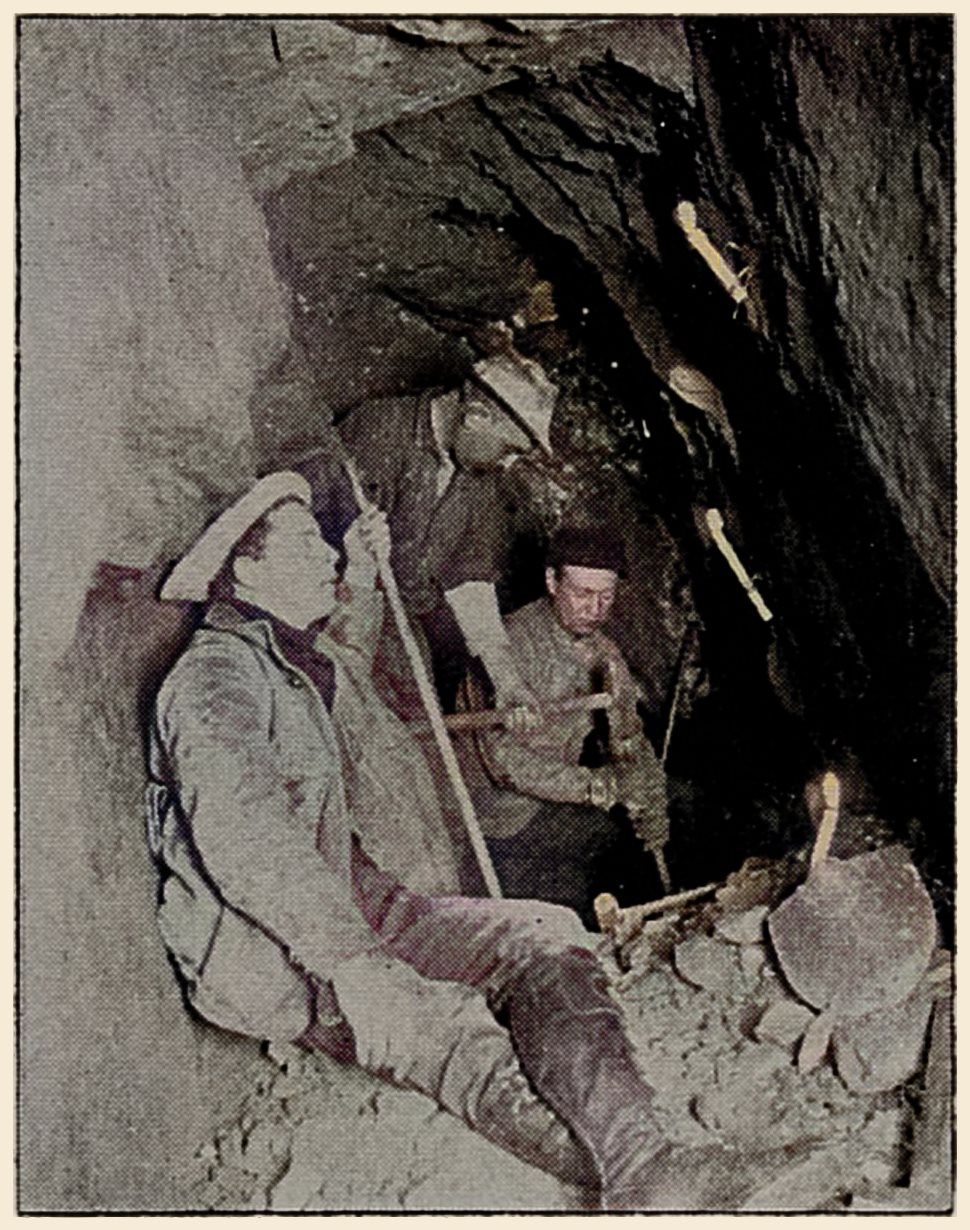 Miners at Work Underground in Candle Light
For the first time in the history of the Cripple Creek district, THE TIMES presents its readers with accurate Information concerning the exact amount of money paid each month to men employed in and around the mines and the lines of business allied with the mining industry.
The table below does not show the vast army of clerks employed in the various stores and business houses. In fact, no attempt was made toward securing that information, as it would entail a complete census of every one throughout the great Cripple Creek district.
The pay roll as shown, though, gives a person an idea of the immense amount of money that circulates throughout the district each month. The money all remains at home, and the merchants of the various towns of the district are the ones who receive the benefit.
The employed of the camp believe in patronizing home industry, and for that reason very little of the money paid each month to them goes beyond the limits of the district. With such a condition existing, it is readily seen that the merchants enjoy a good trade at all times.
The information presented in this issue was secured by a personal canvass to each and every mine throughout the district, and for that reason is accurate.
The employer was sought for the information, so THE TIMES presents the figures knowing them to be absolutely reliable.
The pay roll as given does not include the salaries of the managers and superintendents. As it could not be secured direct from them, it is not included. It is known, however, that their salaries amount to a good many thousands of dollars each month, and were it obtainable it would swell the given total very considerably.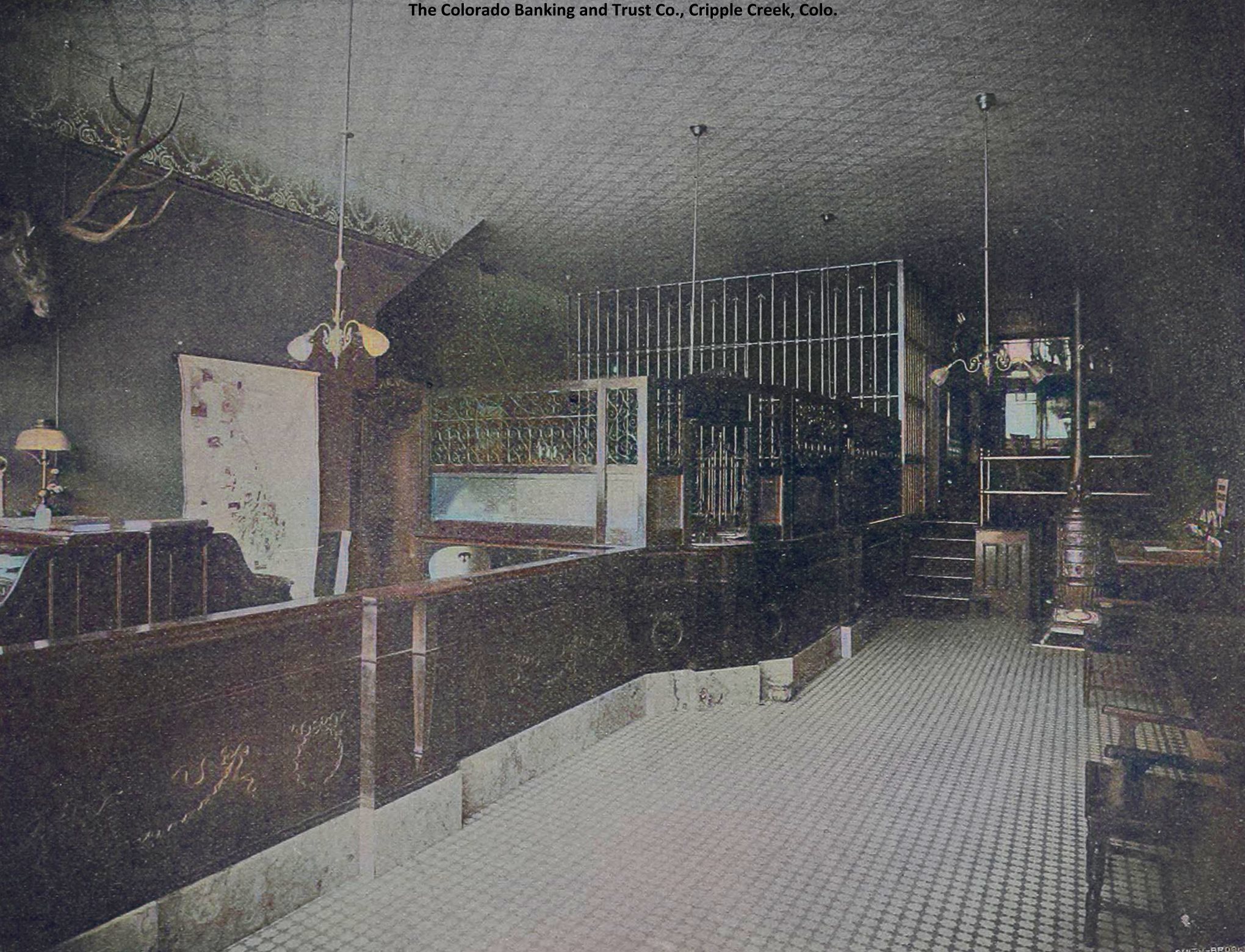 Interior View of The Colorado Banking and Trust Co., Cripple Creek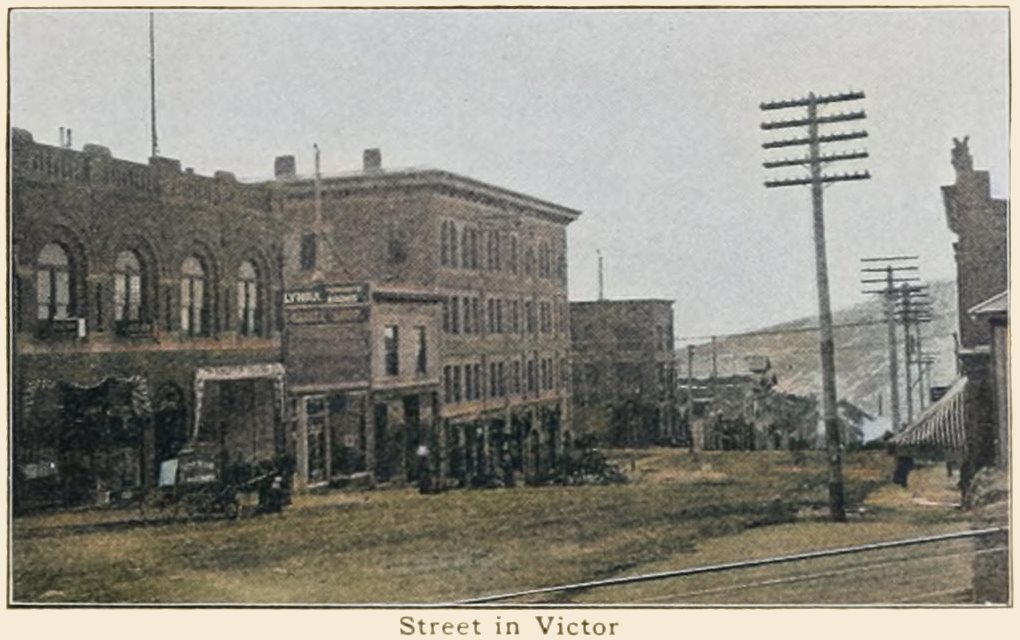 View down 4th Street in Victor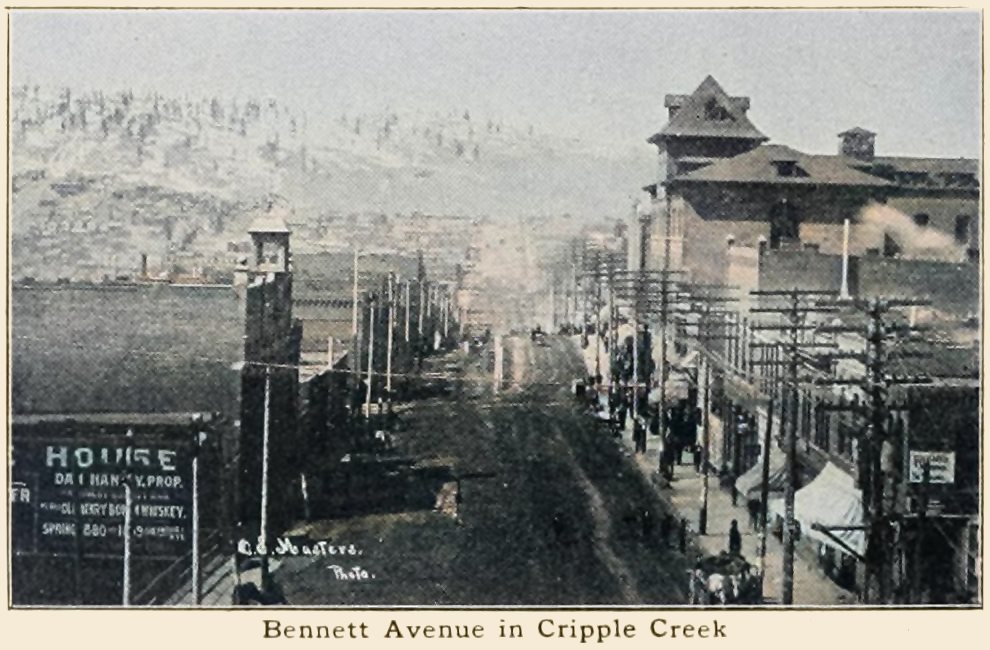 Bennett Avenue in Cripple Creek, Looking West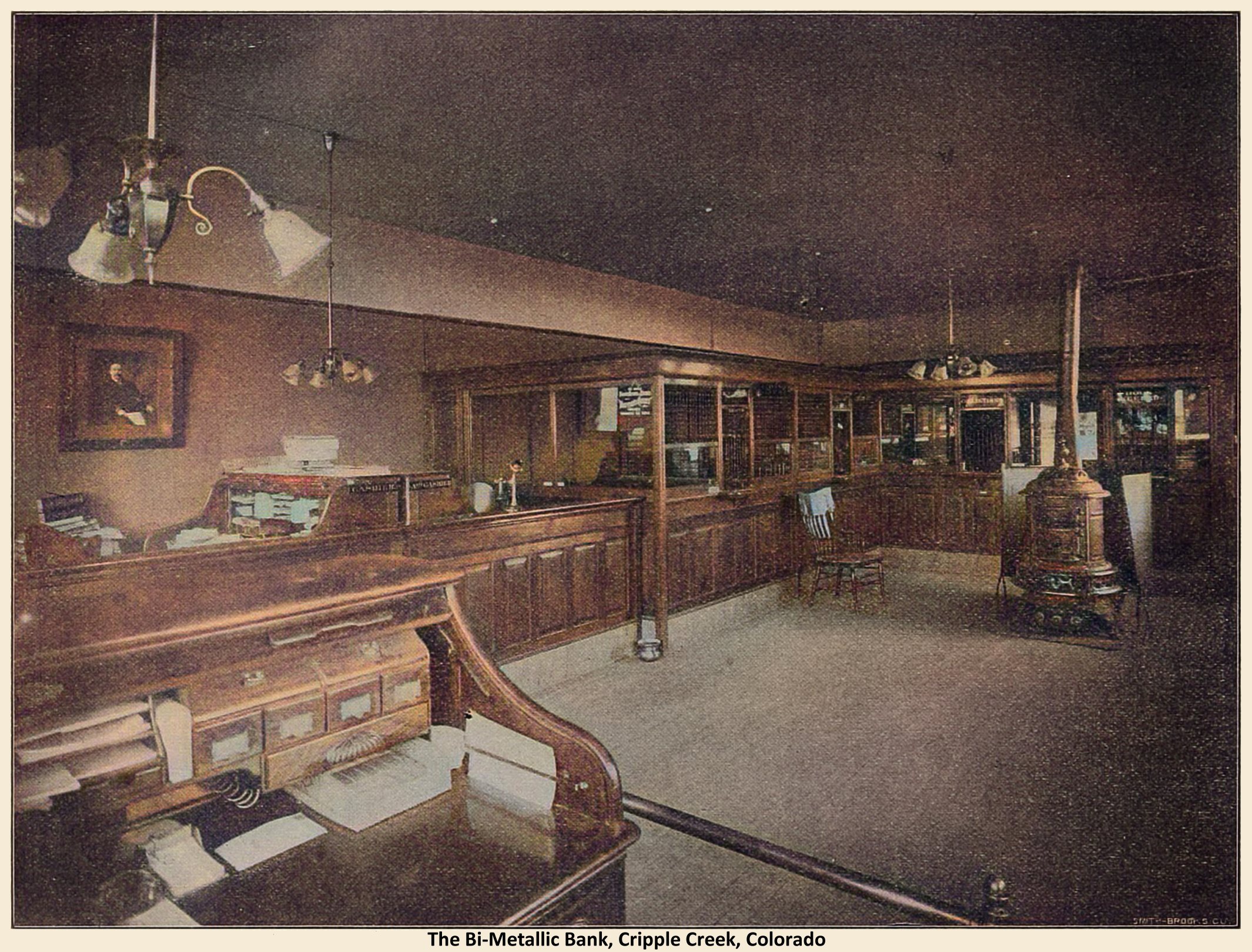 Interior View of the Bi-Metallic Bank, Cripple Creek
To give the reader a fair idea of the general activity of the hills generally, each hill is given, with the number of employed, their average wage, and the total amount paid each month to the men employed.
Cripple Creek is a $3-a-day camp. That is, no one receives less than $3 a day for eight hours' work. Many men receive more than $3 per day, and, as will be seen by the table below, the average wage per day paid for labor amounts to $3.44.
The pay roll for the month amounts to $652,189.41. That amount of money is distributed among 6,270 men. and from them it goes through the various business channels, causing a healthy and prosperous condition of affairs to exist and continue.
The pay roll is as follows:
Location or Type.
Men.
Average.
Total.
Battle mountain
1,685
$
3.50
$
176,952.00
Ironclad hill
88
$
3.08
$
8,137.02
Guyot hill
181
$
3.32
$
18,027.60
Bull hill
1,531
$
3.50
$
160,755.00
Mineral hill
54
$
3.25
$
5,295.00
Raven hill
388
$
3.22
$
32,452.00
Beacon hill
264
$
3.26
$
25,399.20
Gold hill
540
$
3.28
$
53,136.00
Squaw mountain
55
$
3.33
$
5,494.50
Tenderfoot hill
44
$
3.33
$
4,295.70
Womack hill
103
$
3.25
$
10,042.50
Globe hill
37
$
3.41
$
3,785.01
Cow mountain
58
$
3.03
$
5,272.20
Grouse mountain
31
$
3.18
$
2,963.40
Galena hill
10
$
3.16
$
948.00
Straub mountain
9
$
3.00
$
810.00
Big and Little Bull
27
$
3.12
$
2,527.20
Lincoln hill
4
$
3.50
$
420.00
Copper-Rhyolite mountains
44
$
3.06
$
4,039.20
North of Gillett
18
$
3.00
$
1,620.00
Rose Bud hill
7
$
3.00
$
630.00
Phonolite-Trachyte mountains
23
$
3.00
$
2,070.00
West of Cripple Creek
35
$
3.00
$
3,150.00
Carbonate hill
1
$
3.50
$
105.00
Ore haulers
63
$
3.50
$
6,615.00
Power plants
35
$
3.41
$
3,585.00
Mills
79
$
3.61
$
8,849.70
Sampling works
175
$
3.53
$
18,637.50
Coal haulers
35
$
3.50
$
3,585.00
Railway employees
450
......
$
60,000.00
Altman Water Company
30
$
3.30
$
2,880.00
Timber haulers
50
$
3.00
$
4,500.00
Assayers and helpers
45
$
4.40
$
6,000.00
Mining supply men
52
$
3.00
$
4,640.00
Lumber supply men
39
$
3.40
$
3,997.50

Totals

6,270
$ 3.44
$ 652,189.41