1911-ish
(pages 41->42)
O'er Canon & Crag to the Land of Gold
I've collected the pics from the source book in addition to the graphich to sort of sprite up the text.
STORY OF THE DRAINAGE TUNNEL
BY HERBERT N. BERG.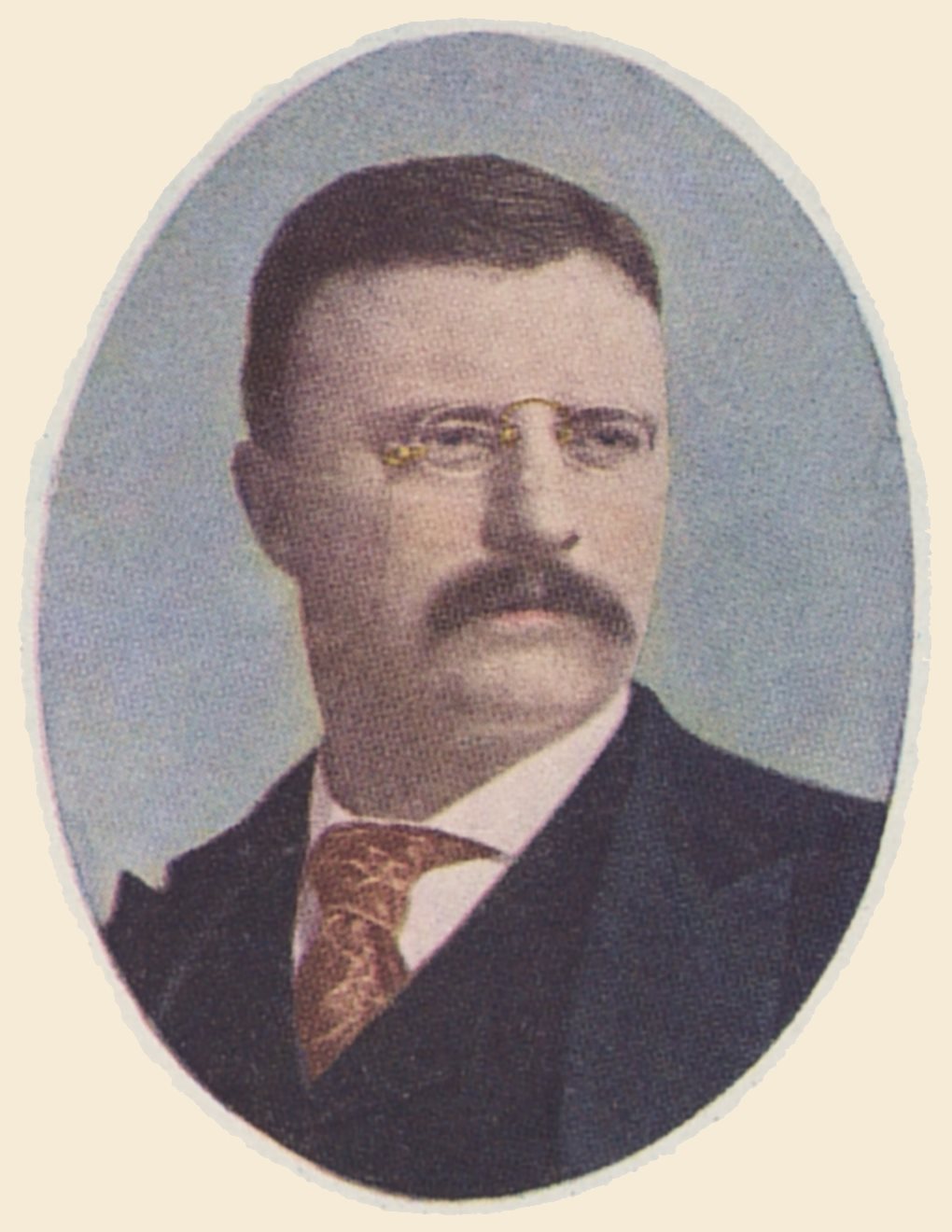 Mr. Theodore Roosevelt
"IT'S THE ONE-DAY TRIP THAT BANKRUPTS THE ENGLISH LANGUAGE," aptly remarked Col. Theodore Roosevelt at the inauguration of the first work commenced on the "Great Deep Drainage Tunnel" at Cripple Creek, Colo., Saturday, May 11, 1907.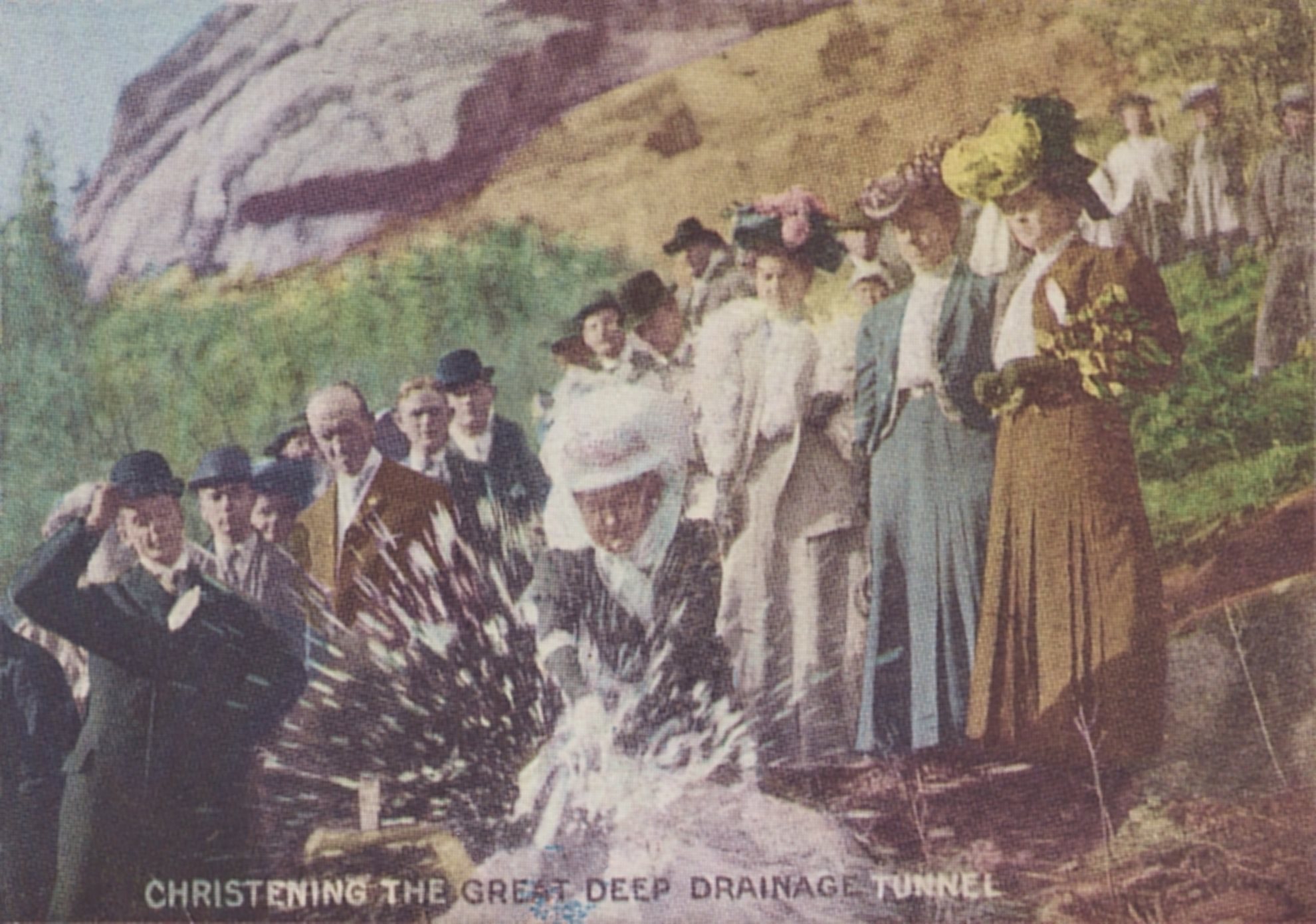 Christening the Great Deep Drainage Tunnel
At that time the immense underground work was christened the "Roosevelt Tunnel," and today, as it nears completion, the words of one of the best men of the world seem all the more apropos.
As one sits in open amazement and silent appreciation on a spacious observation car, while making the trip from Colorado Springs to Cripple Creek over America's most famous "Mountain Highway," the thought occurs again and again—could anything be more beautiful, more perfect or more interesting. It is a forty-five mile trip of one continuous panorama of nature's most gorgeous mountain and canon scenery, only to conclude at the site of a masterpiece of engineering which represents a second birth for the growth and development of the Cripple Creek district.
Such is the Roosevelt Tunnel.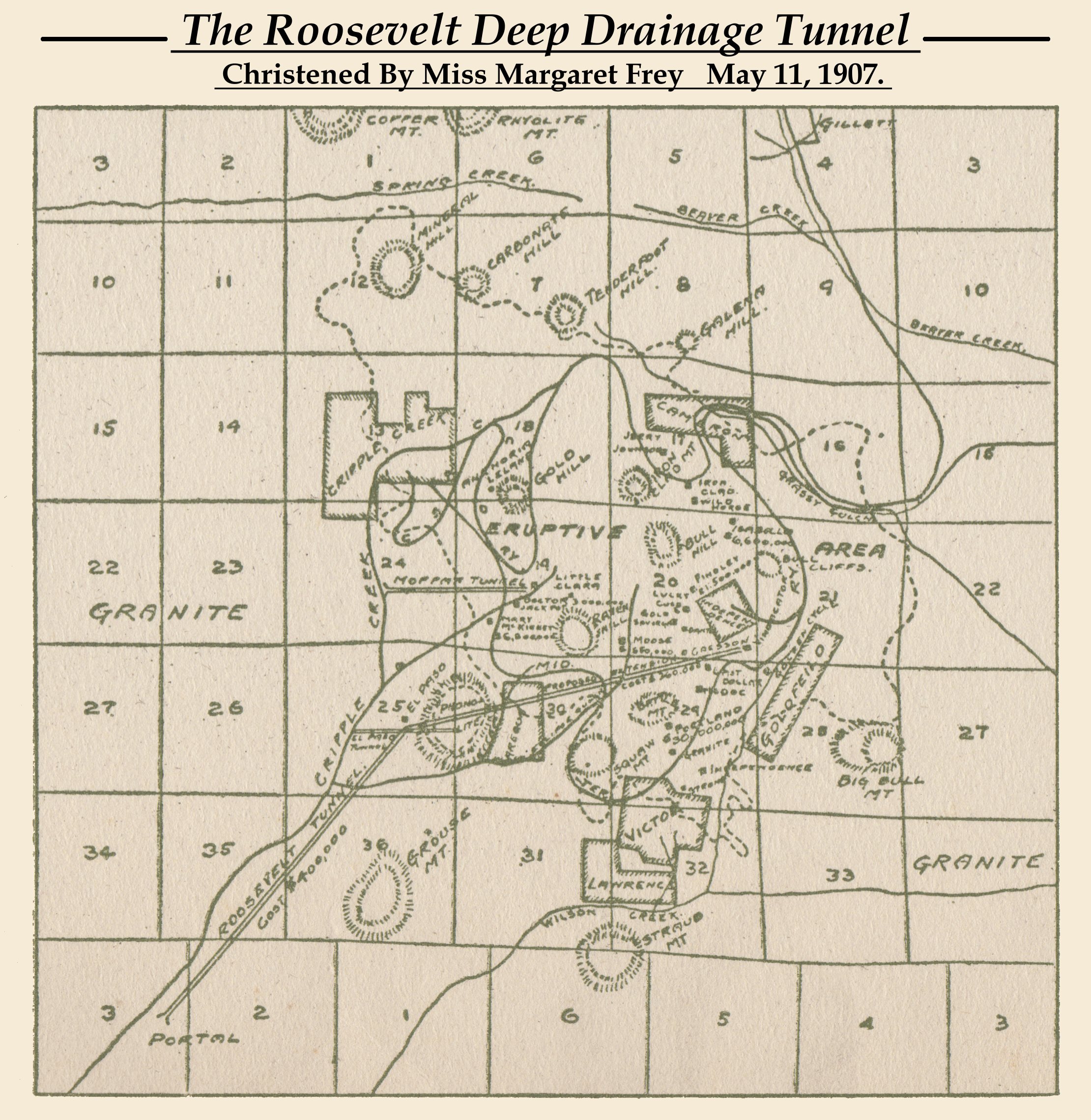 Map of the Roosevelt Deep Drainage Tunnel.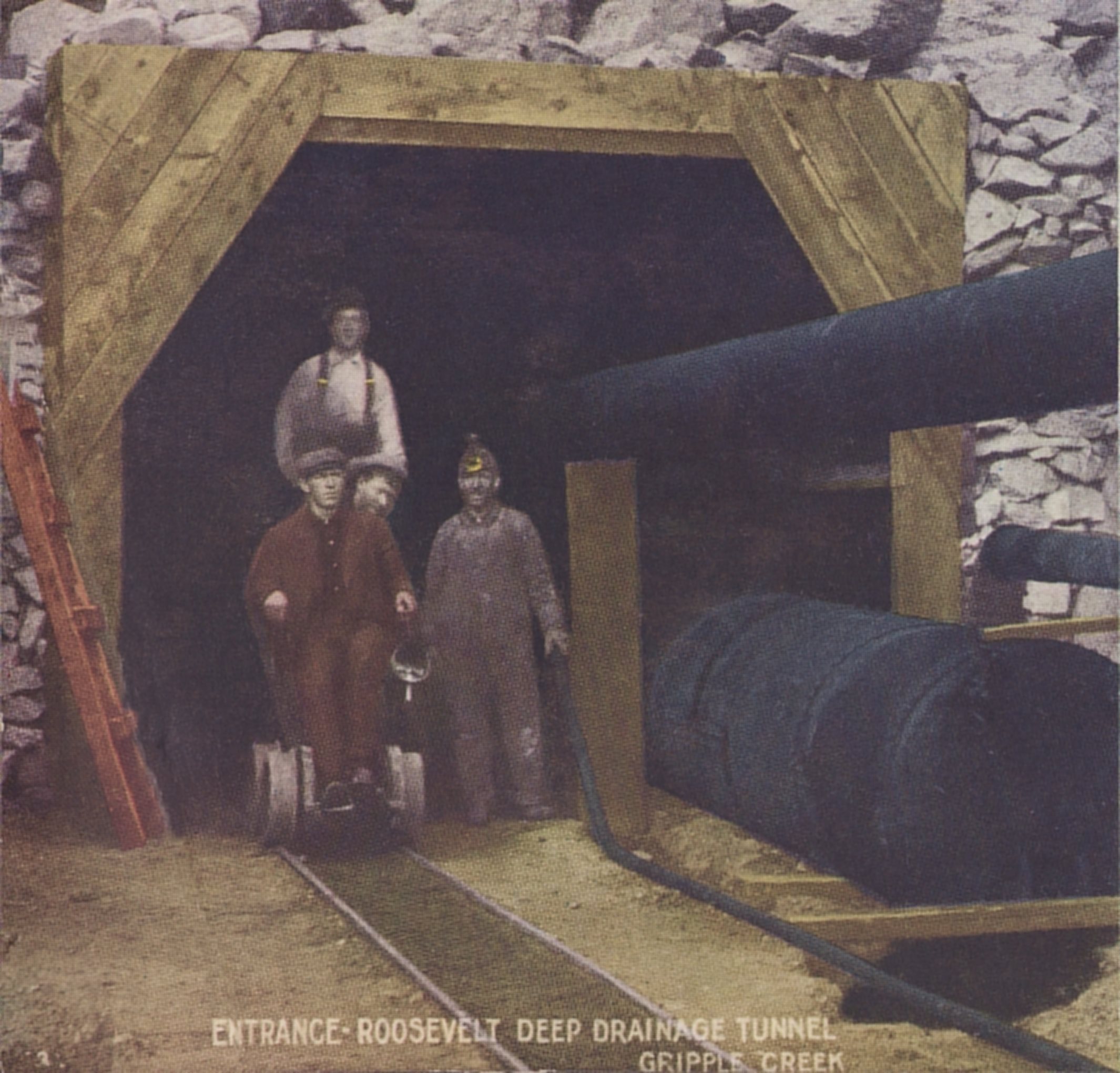 Entrance-Roosevelt Deep Drainage Tunnel Cripple Creek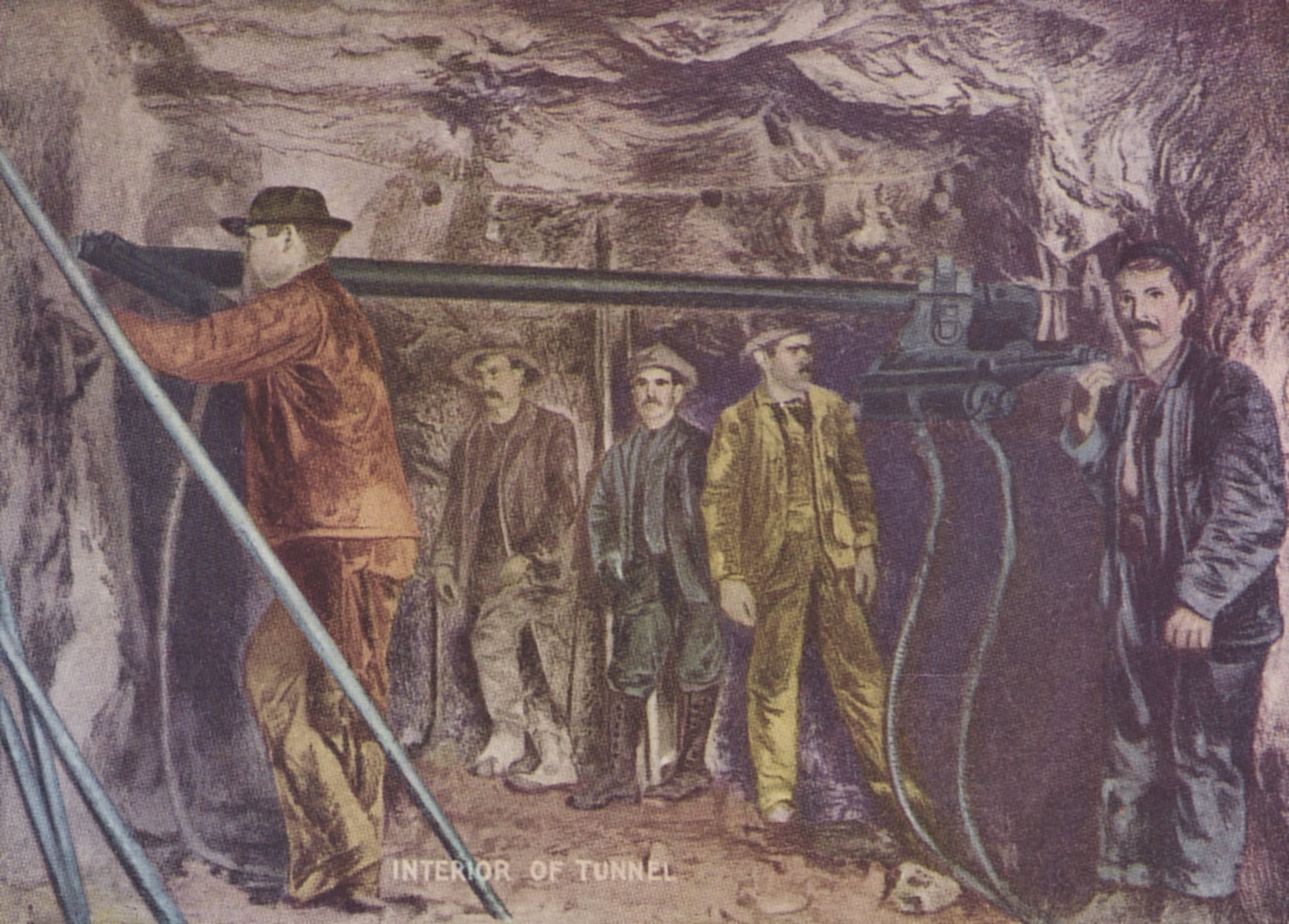 Interior of Tunnel
Burrowing its way at a depth varying from 1,600 to 2,200 feet for a distance of 15,500 feet from Gatch Park, at Cripple Creek, to within 65 feet east of the El Paso shaft, thence in an easterly direction, a distance of 1,000 feet to Volcanic Cave, on Beacon Hill.
It is the center of Beacon Hill, which has been proven to contain a water course which drains the entire Cripple Creek district, an area of ten miles square. From Volcanic Cave, the tunnel is projected two and one-half miles further to the Vindicator shaft, where it will be 3,400 feet in depth and will have drained the entire district and made possible the exploration of much deeper levels.
At present the average depth of water levels throughout the mining district is 750 feet, from which mineral to the value of $225,000,000 have already been taken. As the Roosevelt Tunnel will soon open 750 feet below the present depth, all of which being new ground, a much larger percentage of ore body is anticipated and it is planned to complete the work by the latter part of August.
Upon completion, the Roosevelt Tunnel will not only have solved the problem of the drainage question throughout the mining district of Cripple Creek, but will also have added another all-important attraction to the countless list of those found so unique and exceptional along the route of the "Short Line."