Seeing Cripple Creek, January 1904
(page 26-27)
United States Reduction & Refining Company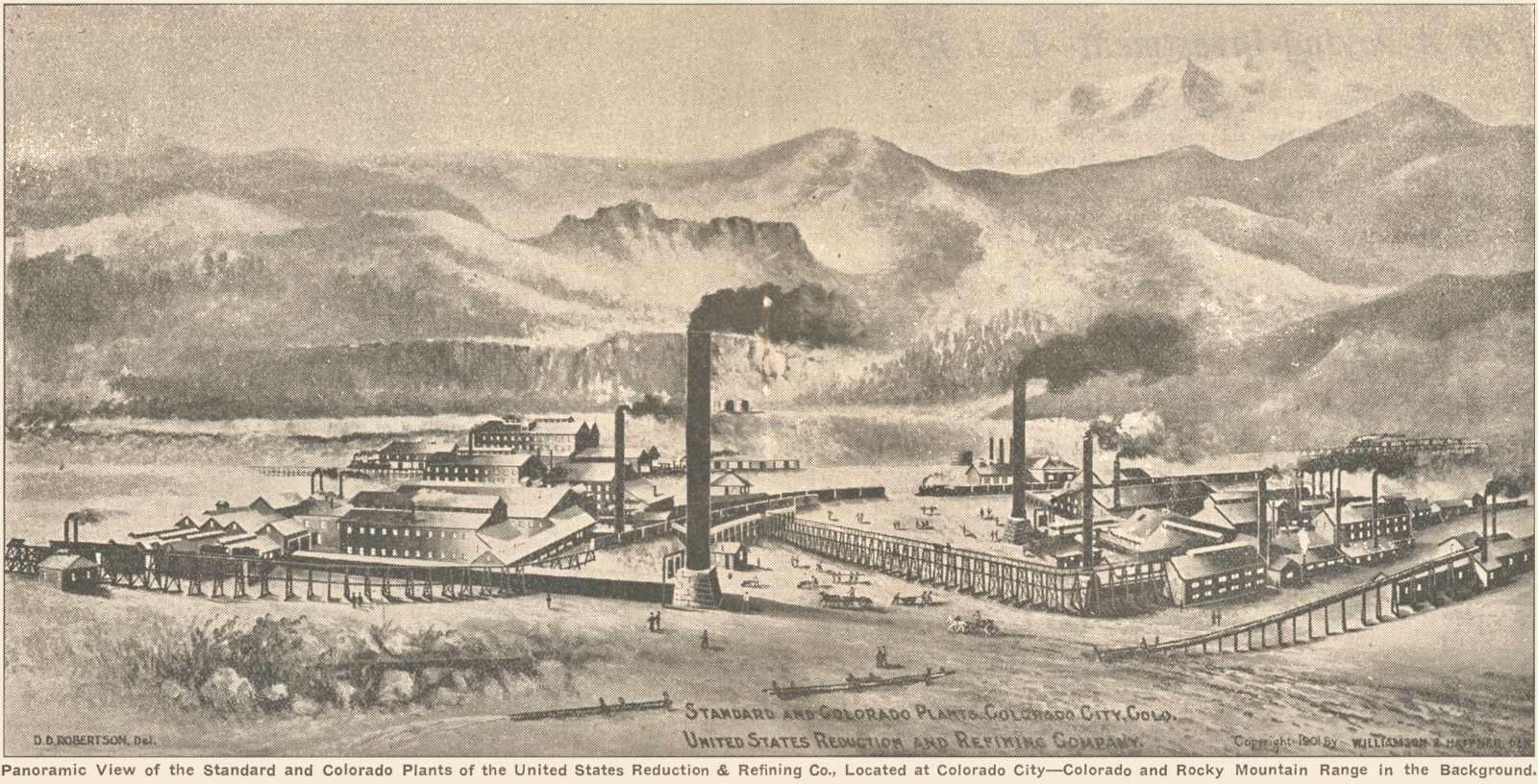 The above illustration gives a splendid idea of the greatness of the Standard and Colorado plants of the United States Reduction & Refining company at Colorado City, nestling in the lap of the great Rocky Mountain chain. The location is the natural gateway to the mines.
The power for the driving of the half hundred large electric motors that drive the machinery of the plant is generated at the power plant of the company, located to the north and east of Colorado Springs. The power house is built at the coal mines, thus affording cheap fuel. This plant is wonderful in itself and is well worth anyone's time to visit. The electric current is transmitted to the motors at the reduction works by two series of wires, so that in case of accident to one series, the other may be thrown into use.
The great twin plants at Colorado City are complete in every detail, containing much improved machinery not possessed by other plants. The ores treated come almost exclusively from the Cripple Creek district. The unloading facilities are the best, and every detail of the plant has been constructed with a view to economy in operation and efficiency in the treatment of all classes of ores, and stands as a model to other reduction plants in all parts of the United States.
In addition to the two large plants at Colorado City, this company owns the Union plant at Florence, Colorado, and the National plant, also at Florence. The United States Smelting company's plant at Canon City, Colorado, also belongs to and is operated by this company. The total capacity of the various plants reaches the enormous figure of 50,000 tons a month. More than 850 men are employed in the various departments of the works and the daily average of wages paid is $1,500. This amounts in a year to more than a half million dollars.
The officers of the company are:
C. L. Tutt, president
C. M. MacNeill, vice-president and general manager
Spencer Penrose, secretary-treasurer
J. D. Hawkins, general superintendent
J. Q. MacDonald, manager Union plant, at Florence
D. C. Jackling, manager United States Smelting company, at Canon City.