Mines and Minerals,
May, 1900 (page 446)
ELECTRICITY AT CRIPPLE CREEK.
Its Influence on the Development of the Region—Arrangements for Furnishing Power to Users of Small Amounts.
Unknown Author
Cripple Creek may be termed the Transvaal of America, but it possesses many advantages over its rival. The famous gold mines of Cripple Creek are contained within an area of a little over 6 square miles. In this limited space there are upwards of 150 mines shipping gold, 15 of which have an output of 1,000 tons of ore each, per month. The gold production of this district has grown from $200,000, in 1891, to $14,000,000, in 1898.
Nine years ago Cripple Creek was a bare pasturage, over which roamed a herd of cattle, today cities and towns, with a population of 50,000, are evidence of the changes wrought in this favored spot.
Electricity has had much to do with the rapid development of Cripple Creek. The pioneers in the gold-mining field were quick to recognize the facilities for domestic life and mining operations which electricity would afford. Probably no other mining district is so thoroughly supplied with electricity, for the home of the miner is lighted by incandescent lamps; he goes to his work in an electric street car; by an electric hoist he descends into the mine; electric lamps furnish illumination for his work; electrically driven pumps keep the mine dry; electric air compressors run drills; electric hoists raise the ore; and by electricity the blasts are fired from switchboards remote from the point of explosion.
Electric current is supplied by the Colorado Electric Power Co., which operates three Westinghouse alternating-current 470-kilowatt generators, 3 phase, 500 volts, capable of supplying 2,250 horsepower. This station transmits current 27 miles to Cripple Creek, at 20,000 volts. A further plant has recently been established by the La Bella Mill, Water & Power Co., for supplying power to its mills and mines.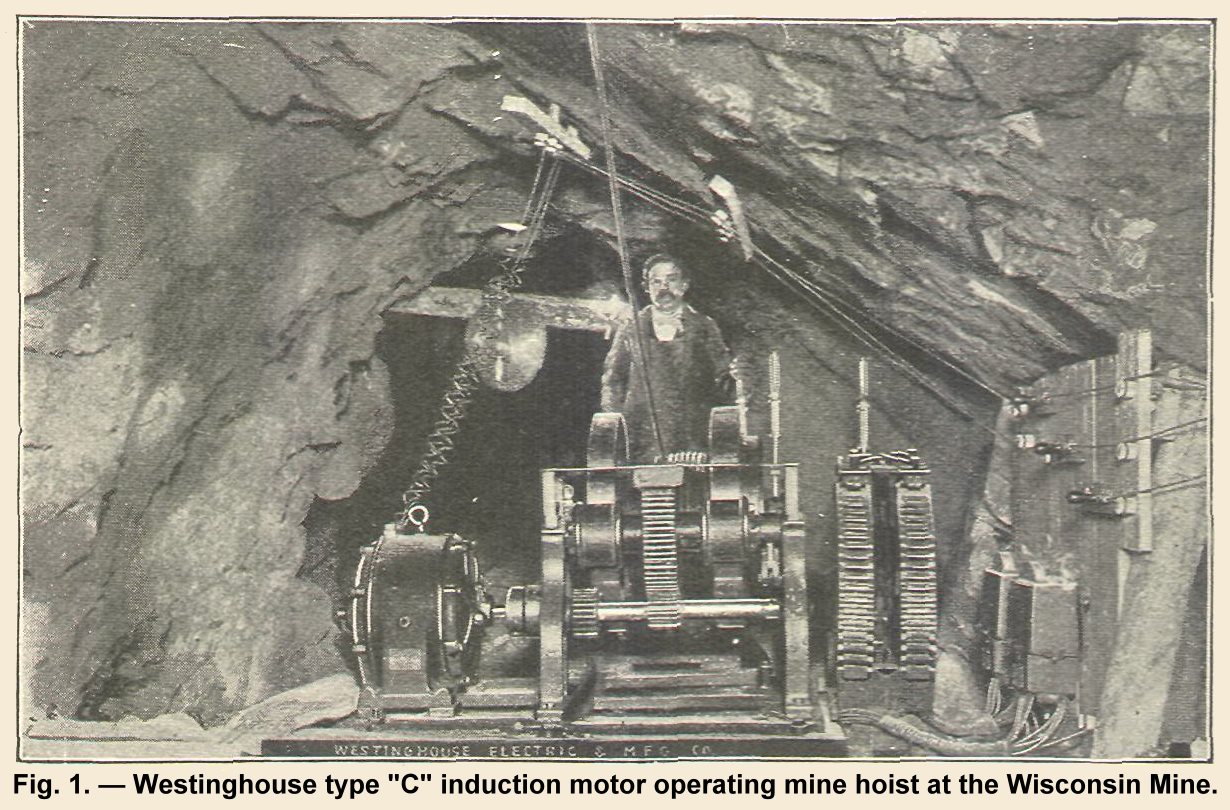 FIG. 1. — Westinghouse Type "C" Induction Motor Operating a Mine Hoist at the Wisconsin Mine, Cripple Creek.
In nearly every mine, Westinghouse type "C" induction motors have been introduced for hoisting, pumping, operating air compressor for drills, lightning, and for operating crushers and other machinery.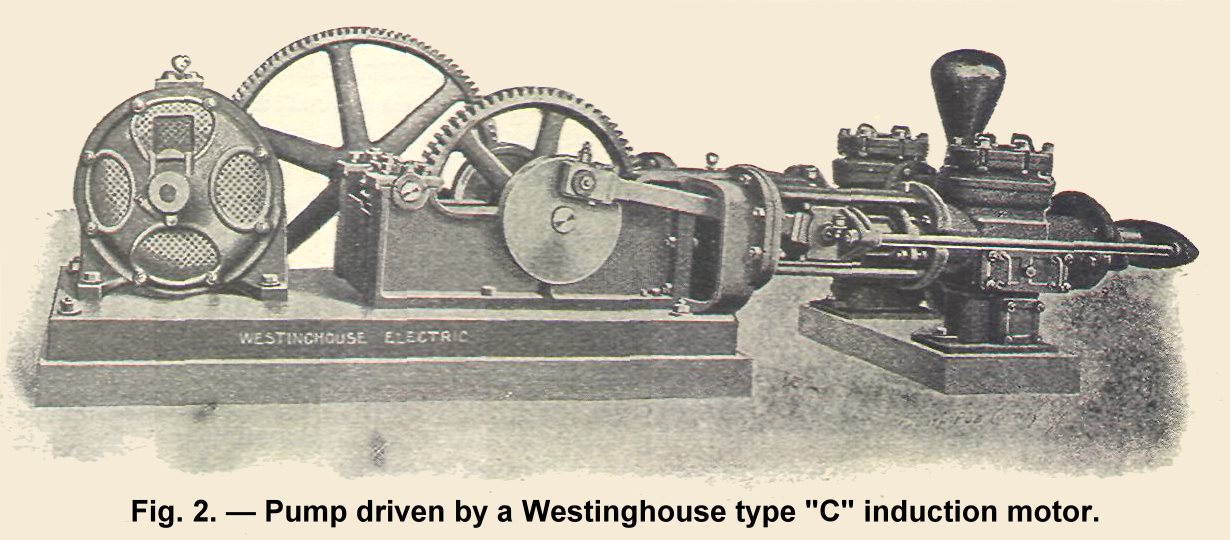 FIG. 2. — Pump driven by Westinghouse type "C" Induction Motor.
Fig. 1 shows a type "C" motor operating a mine hoist of the Wisconsin Mine, Cripple Creek, and Fig. 2 a pump driven by the same means.
The Colorado Ore Reduction Co. has a 150- horsepower motor for operating its crushing machinery.
The Lily Gold Mining Co. use 100 horsepower for operating hoists and air compressor.
The Moon Anchor Gold Mining Co. have a 100-horsepower type "C" motor for pumping from a depth of 600 feet.
The needs of the majority of consumers range from 75 horsepower down to 5 horsepower. A Westinghouse type "C" motor of 15 horsepower suffices for hoisting through a shaft 450 feet deep; when this depth is exceeded, a motor of 30 horsepower is used, which will be sufficient for a depth of 800 feet; for still greater depths motors of from 75 to 100 horsepower are installed.
The companies supplying electric power give every facility to lessees and prospectors; they rent small hoists, worked with electric motors, from 5 to 30 horsepower, thereby enabling the lessee or prospector to use practically the whole of his capital in development work, avoiding the necessity of purchasing and installing a power plant. If their mining efforts are successful, and ore is found in paying quantities, making it desirable to purchase the electrical power plant, an option of purchase is exercised which the company granted in the first instance, the rent which has been paid applying on the purchase price.
The minimum charge for a 5-horsepower electric hoist is $50 per month, which includes the power used. The plants, from 15 horsepower to 30 horsepower, range from $65 to $200 per month for rent of motor, etc., and power supplied, depending on tonnage and depth of shaft. The electric company has upwards of $60,000 worth of machinery rented out, and is continually making additions.
The principal uses of electric power are for hoisting, and compressing air for the operation of machine drills. Air compressing in the large mines consumes about four times the amount of power required in any other service, for the reason that the compressor is worked almost continuously, while the hoist, consuming a large amount of power while in use, is in active operation less than one-fourth of the time.
It is estimated that in the Cripple Creek district the use of electric power, as compared with steam power, effects a saving of from 15 to 50 per cent., according to the position and circumstances of the mine. This saving is irrespective of reduced wage account, and also irrespective of its greater reliability and convenience, since it is unaffected by frosts. Drills operated directly by electricity, without the intervention of an air compressor, have been in successful operation in other districts of Colorado, and it is only a question of a short time when similar drills will be used not only in the Cripple Creek district, but also in many other mining districts.
The introduction of electrical power is revolutionizing the mining industry; it, under favorable conditions, reduces operating expenses, increases profits, makes available lower-grade ore, besides enabling prospecting work to be done upon unworked claims without the expenditure of a great deal of capital. The introduction of electricity to mining is one of those movements characteristic of modern engineering work, in which advance in any department extends its influence to, and gives increased energy to, other branches.
The effect of its introduction into Cripple Creek is seen in the rapid development of the mining camps. The net result is a great increase of activity and labor employment, and new openings for the utilization of capital, not only in the mining fields, but in the manufacture of electrical and mechanical appliances which have so greatly facilitated mining work.